Welcome!
This is the official page of the Hungarian Youth Delegates
About the Programme
The United Nations Youth Delegate Programme was created in 1980s with the intention of empowering youth and including them in global decision-making processes. Since then, Member States have been sending youth representatives to various UN bodies. 
In 1995, the World Programme of Action for Youth (A/Res/50/81) adopted a clause inviting Member States "once again, to include, whenever possible, youth representatives in their delegations to the General Assembly and other meetings of relevant United Nations bodies, with a view to stimulating the participation of young women and men in the implementation of the Programme of Action". Ever since, participation in the programme has been growing.
Roles and Duties
Youth Delegates primarily represent their respective country's youth at relevant sessions of the United Nations as "spokespersons", however the scope of their activities extend far beyond that. They raise awareness on youth-related issues, offer counsel to governments and work on establishing youth cooperations with each other. 
Youth Delegates also play a key role in promoting and introducing main principles adopted by the UN, such as sustainability, to the youth of the world. They often offer practical advice to young people seeking help in running or launching UN-related youth projects too. The delegates are also known as lobbyists for youth rights and interests, such as the inclusion of young people in decision-making processes.
Meet the Youth Delegates
They are just like You — feel free to reach out to them if you have any questions or ideas!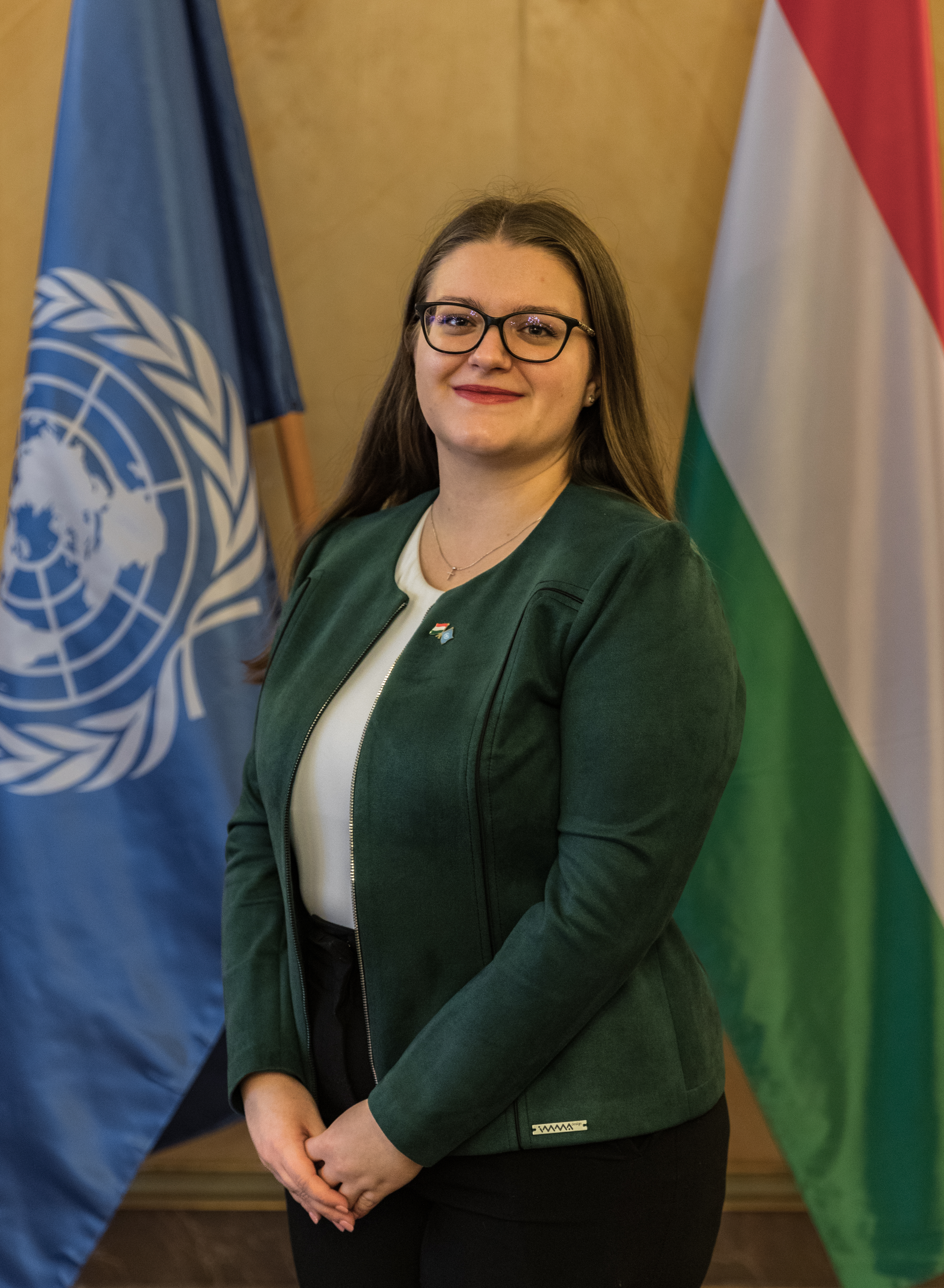 Ms. Csenge Margit Offenbächer
Csenge Margit Offenbächer is the new youth delegate of Hungary to the United Nations for 2023. 
She graduated from Pázmány Péter Catholic University in Budapest, Hungary, with a Law degree. She spent a semester abroad at the Law Faculty of Katholieke Universiteit Leuven in Belgium as az Erasmus exchange student.
In 2019 she completed an internship at the United Nations Office of High Commissioner for Human Rights where she worked for CERD and the Secretariat of the Committee.
She wrote her master's thesis on the topic of Female Genital Mutilation (FGM) with regards to the current Human Rights Treaties and the work of the UN.
As a young woman coming from the Northern rural area of Hungary, she experienced the daily struggles of youngsters, therefore during her mandate she focuses on children, adolescent and young adults coming from rural areas in Hungary with a highlight on girls and young female.
She finds it important to concentrate education of feminine hygiene and sustainable development.
In the upcoming year she wants to meet as many children and young people in person as possible, mainly coming from rural areas of Hungary. She intends to spread awareness about the work of the Youth Delegate and the Program and to show the correct ways of recycling in order to work towards a more sustainable future.
She regularly reports on the UN Youth Delegate Program and keeps a diary on Facebook and Instagram, as well as on hunyouth.hu.
You are welcome to inquire about the program and contact Csenge at hello@hunyouth.hu.
The previous youth delegate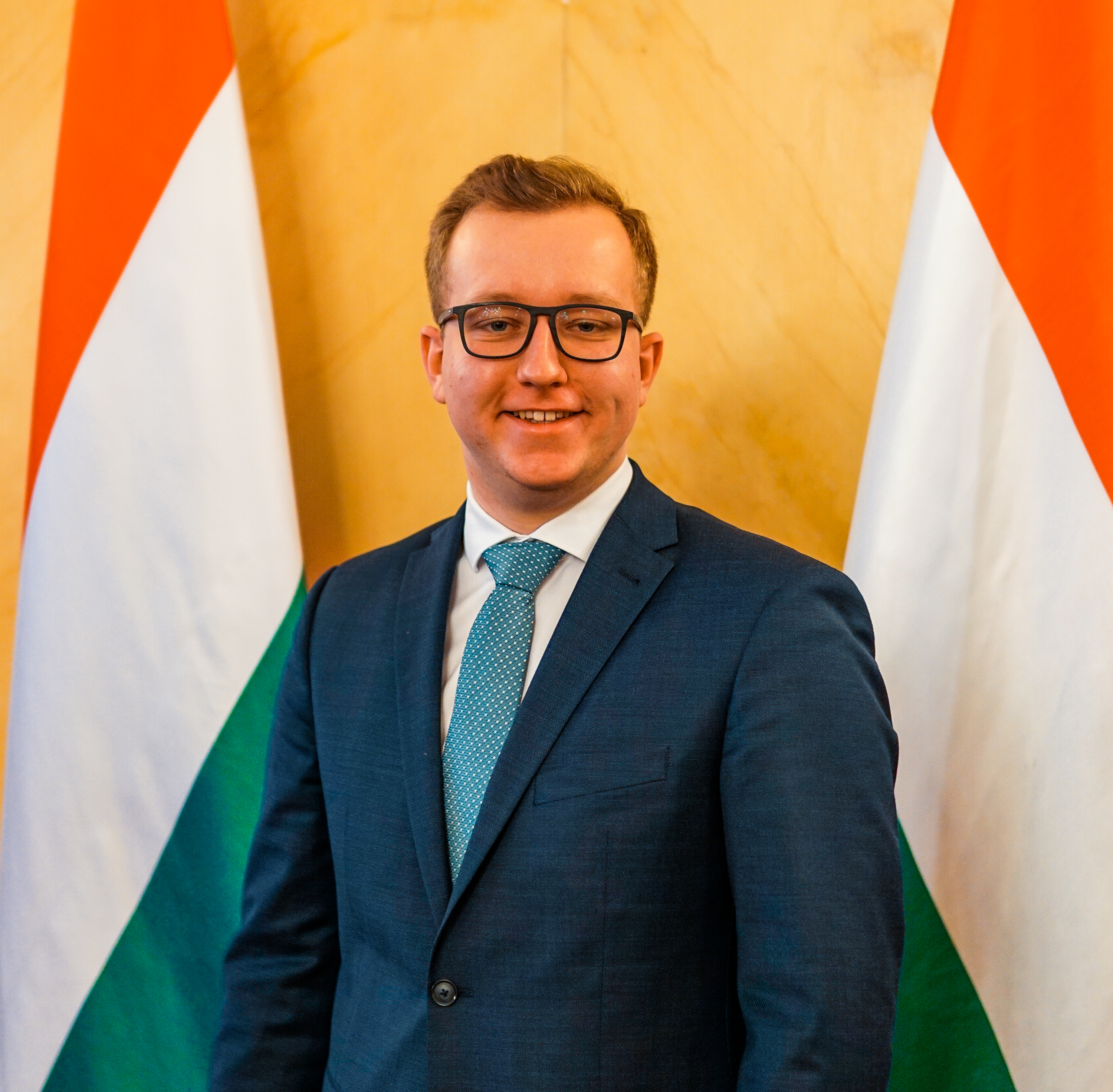 Mr. Domokos Péter Kovács
Domokos Péter Kovács, Youth Delegate of Hungary to the United Nations 2022
For Domokos, the strength of the community has been important to him since he was 10 years old thanks to water polo. He spent his school years at a Waldorf school and then at a German ethnic minority school. At the Friedrich Schiller German Nationality High School in Pilisvörösvár, it was important for him to be an active member of student life. He deepened his knowledge of German in the debate club and then he visited Germany several times thanks to scholarships. Together with his fellow students, he joined the European Parliament's Ambassadors' School program and organized selective waste collection for his school. After high school, he began his studies at the University of Passau with a scholarship from the German state and became a volunteer and then a member of the Association for German-Hungarian Youth. In the summer of 2019, he attended the Purdue Eyetem at the Benjamin Franklin Transatlantic Institute as a U.S. State Department fellow. Its cooperation with the American Embassy in Budapest is still strong, thanks to which Domokos has implemented selective waste collection in several Hungarian schools and will currently help schools in the Tisza region. As a member of the National Student Council, he started a good partnership with the National Youth Council of Hungary, with which he will also work closely during his delegation.
In the next year, it will take its good practice to as many places as possible so that schools can organize separate waste collection. He also wants to raise awareness of the waste pollution of the Tisza through sports, so he is planning a Sustainability Water Polo tournament. He also wants to get to know the situation of Hungarian young people abroad, but he also considers it important to present the national minorities living in Hungary. The role of the envoy still holds many unexpected things for him, but he wants to be able to actively represent Hungarian youth everywhere and to achieve "tangible" results thanks to his projects.
He regularly reports on the UN Youth Delegate Program and keeps a diary on Facebook and Instagram, as well as on hunyouth.hu.
You are welcome to inquire about the program and contact Domokos at hello@hunyouth.hu.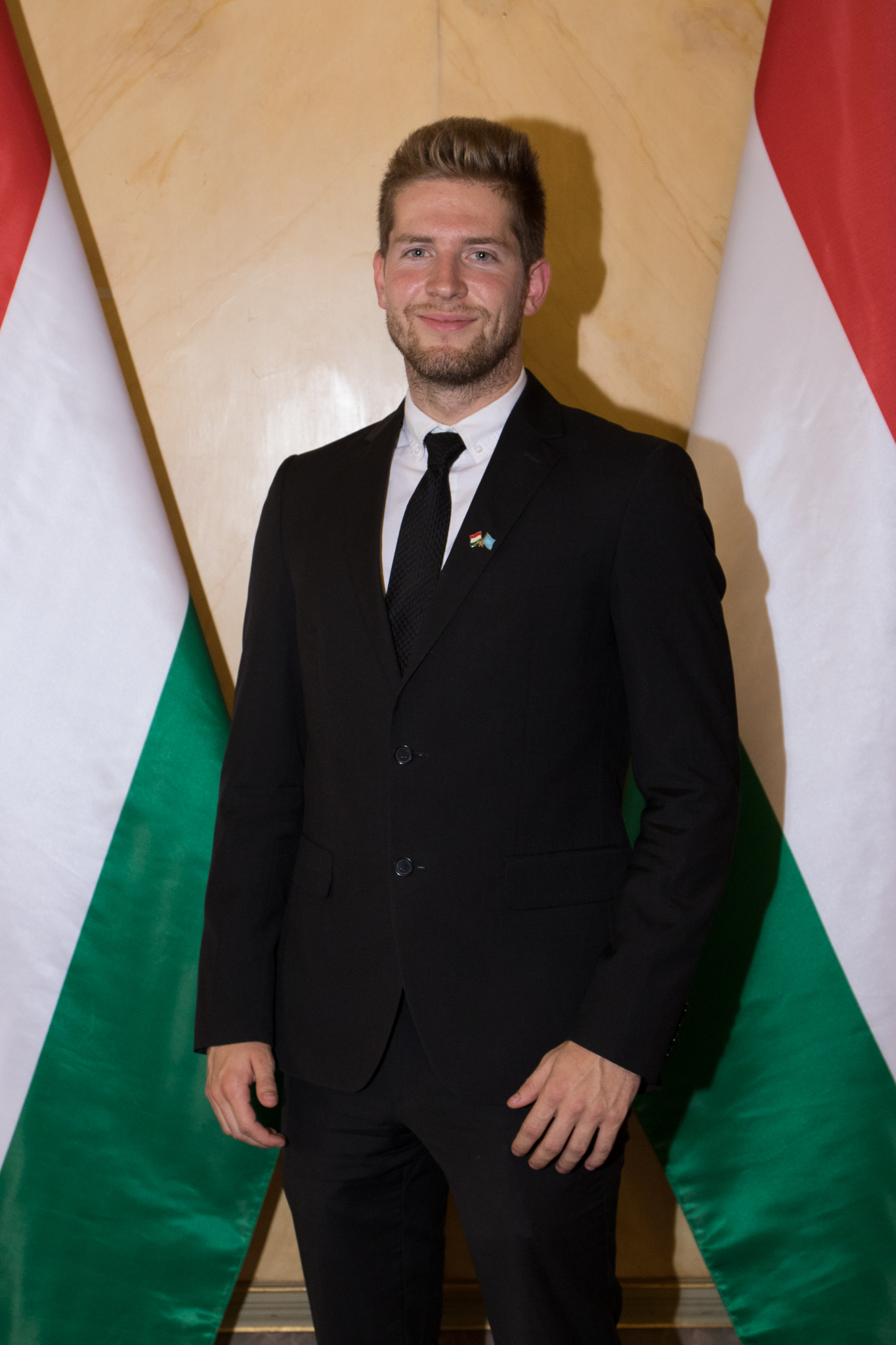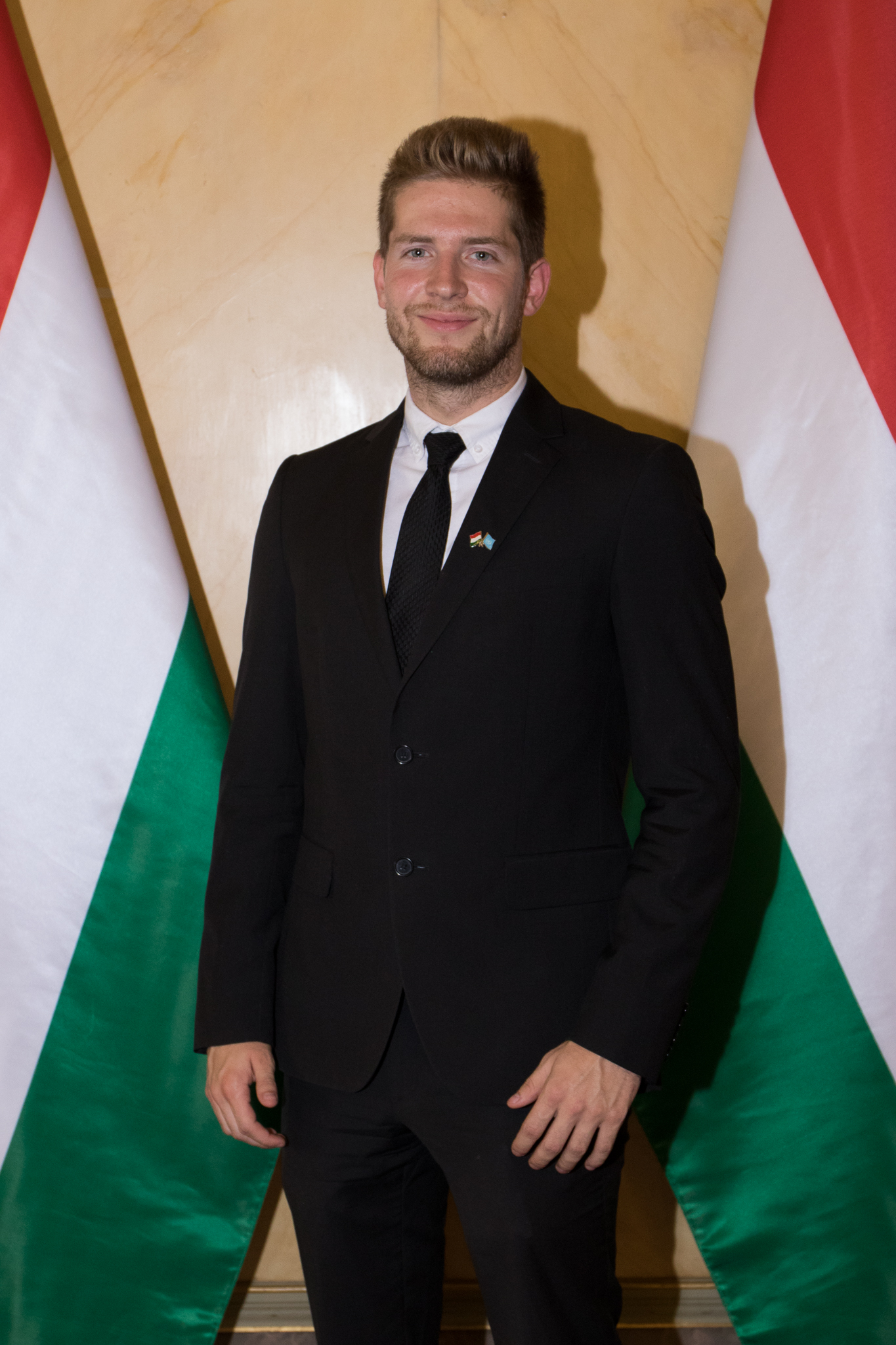 Mr Jason Sparks
Jason Sparks, Hungary's fourth UN Youth Delegate is a sixth-year medical student at the Faculty of Medicine, University of Pécs. Born on February 27, 1995, in Los Angeles, but he lives in Hungary since his early ages. He graduated in Szekszárd, from János Garay High School.
His open-mindedness to the world started early, he participated in several national geography and debate competitions. During his university years, he was the national officer on medical education within the Hungarian Medical Students' Association, also the secretary of the Demonstrator Student Circle at the University of Pécs, and he was the scientific student rapporteur at the Student Development Committee. At the Pécs Medical Students' Association, he gave preventive themed lectures and seminars for children from kindergarten to high school students. His research work (the role of a protein in aging) was carried out at the Department of Anatomy of the University of Pécs. He participated in numerous national and international conferences already presenting his scientific work.
Jason has attended medical exchange practices in Greece, Japan, Thailand and Spain. In Egypt, he participated at the 2018 IFMSA General Assembly in March with the Standing Committee on Medical Education, as a representative of Hungary. The multicultural environment during the exchange practices and the conferences abroad made him gain international experiences.
His purpose is to represent the young people of Hungary, also on national, also on international levels. His priorities are focusing on promoting prevention and immunization, mental health, quality education and environmental protection.
In his free time, he likes to go hiking and traveling. His favorite hobbies are photography, sports and trying out special foods.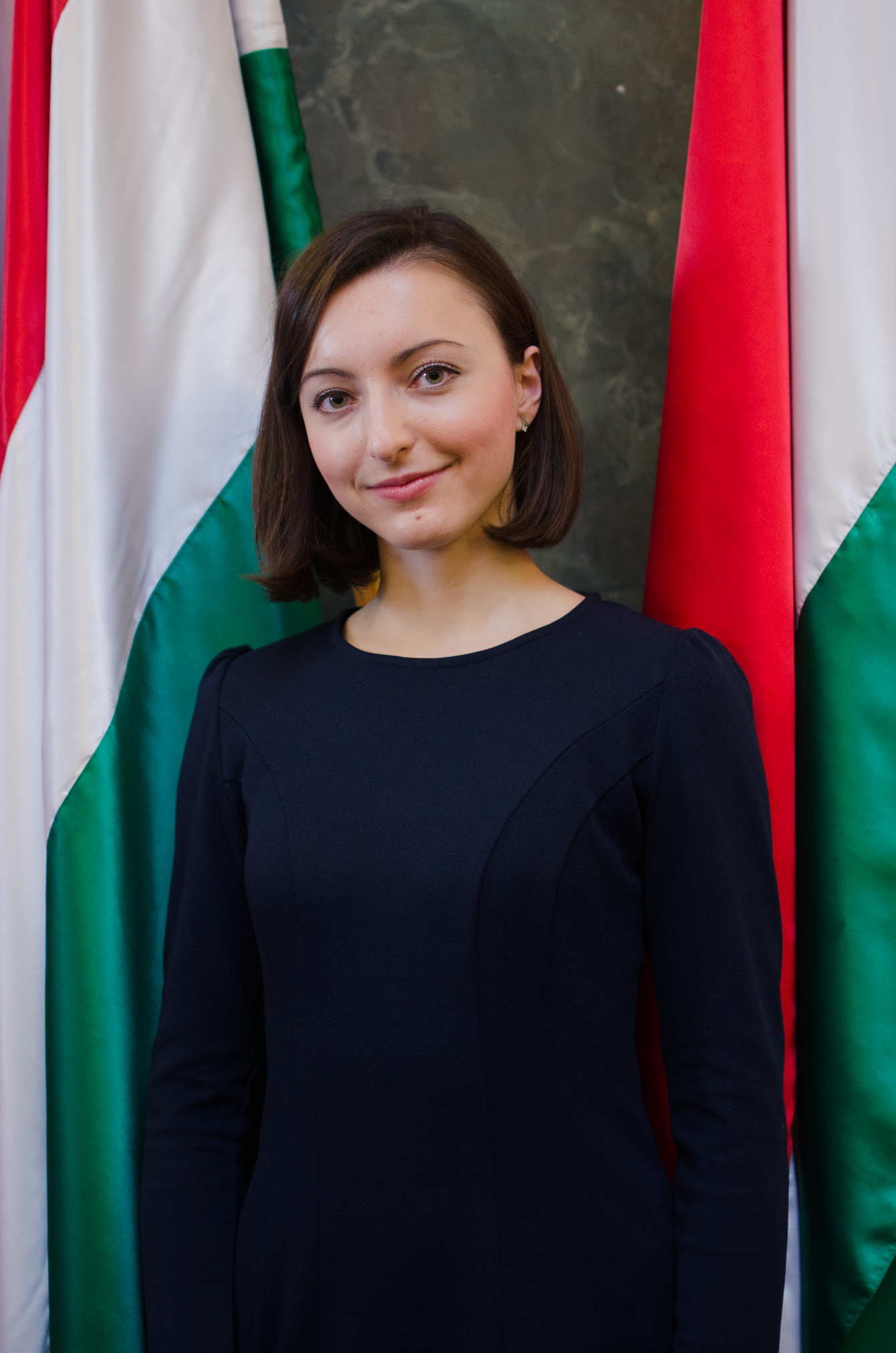 Ms Ágnes Szuda
Ms Ágnes Szuda was selected to serve as a Youth Delegate of Hungary to the United Nations in 2017. She will represent the young people of Hungary in the Third Committee of the UN General Assembly in October 2018 and the ECOSOC Youth Forum in February 2019.
Ágnes graduated in 2017 from the University of Cambridge with a degree in Geography. She started to work on youth policy as a social research summer intern at the Cabinet Office, London and she conducted research on the UN's Sustainable Development Goals as the World Health Organization's intern in Geneva. Following her experience in the public sector, she worked on improving gender equality, human rights and environmental strategies in the private sector as a corporate responsibility consultant intern at Carnstone Partners LLP.
She represented Hungary as the Captain of the Hungarian Team at the National Geographic World Championship and won a silver and a bronze medal for Hungary at the International Geography Olympiad in 2013 and 2014. Dedicated to building strong communities, she worked as an Events Officer of the Cambridge University Hungarian Society strengthening the Hungarian student community and promoting cultural understanding between Hungarians and various nations.
As a Youth Delegate of Hungary to the UN, she is committed to building a bridge between young people, decision-makers and the United Nations. She aims to catalyse positive change through her activities and build international cooperation for a brighter future.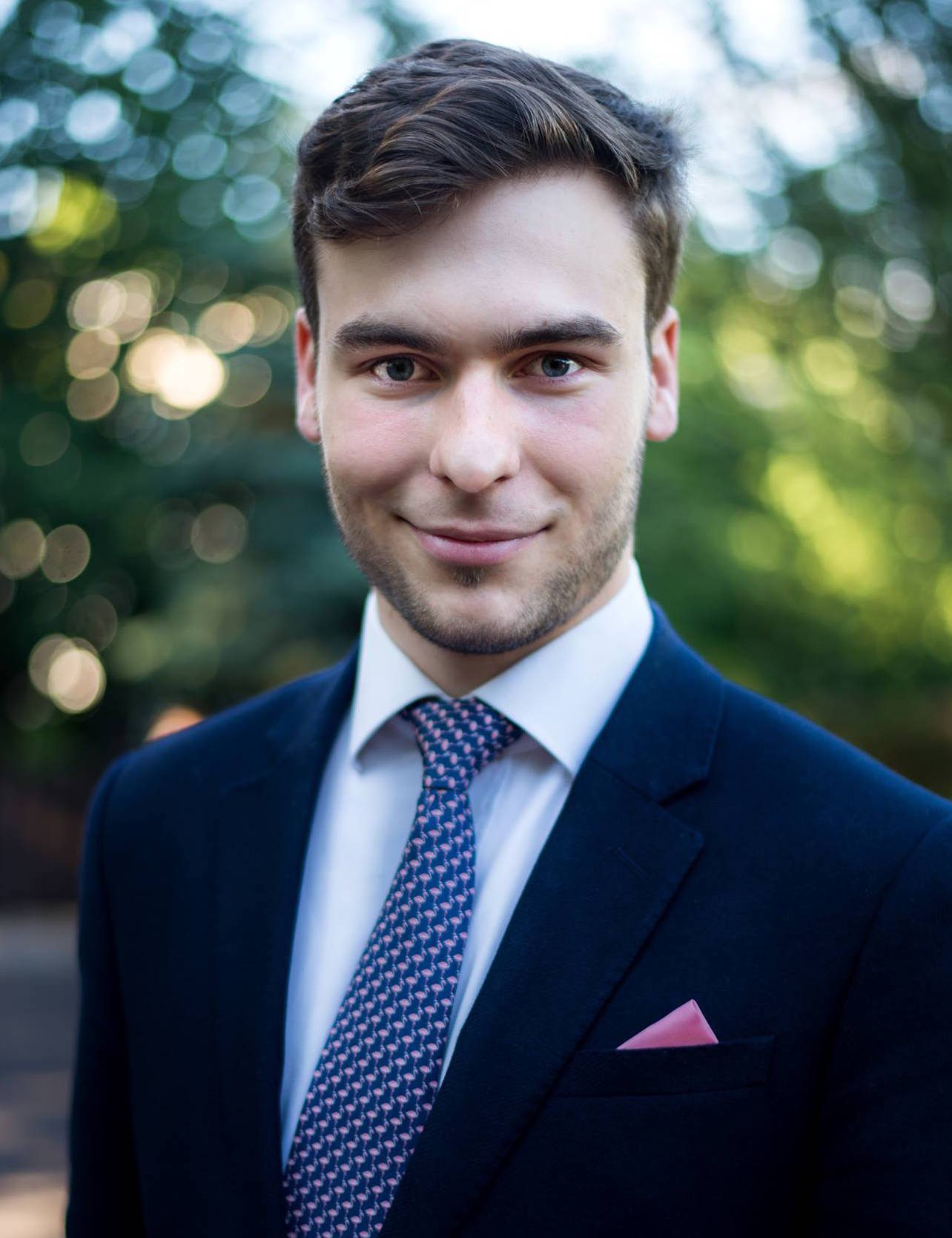 Mr András Volom
Mr András Volom, the first Youth Delegate of Hungary to the United Nations held the position between 2016 and 2017. He is the founder of the Hungarian UN Youth Delegate Programme.
András is a student of International Relations at the War Studies Department of King's College London. An outspoken advocate of youth empowerment and global cooperation, András has worked on and managed initiatives aimed at enhancing young people's capacity to take part in decision-making and influence the course of the future. Currently, he leads the founding of a youth-led NGO, Holnap, which will provide a platform and guidance for changemakers (aged 17-24) in launching projects strengthening sustainability.
Simultaneously, he acts as the president of two university societies and is a prominent figure of Hungarian student cooperation in the UK. In 2015 October, he participated in the 9th UNESCO Youth Forum as an independent representative and peer-facilitator. From 2012 to 2014 he helped the work of the Organising Committee of the 2nd Youth Olympic Games as a Junior Consultant. He has also been an active contributor to the global Model United Nations circuit since 2011, teaching students in South Korea and Hungary, attending and chairing at conferences from Tel Aviv to Cambridge and serving as the Secretary-General of Budapest International Model United Nations in 2015.
András looks forward to working and cooperating with other youth delegates at the UN and is also eager to set up the Hungarian pillar of the programme. He is happy to provide guidance to anyone willing to start a UN-related youth initiative.
Contact the Youth Delegates
Questions or ideas? — Proposals for cooperation? — Willing to learn more about the programme? — Choose from the options below.